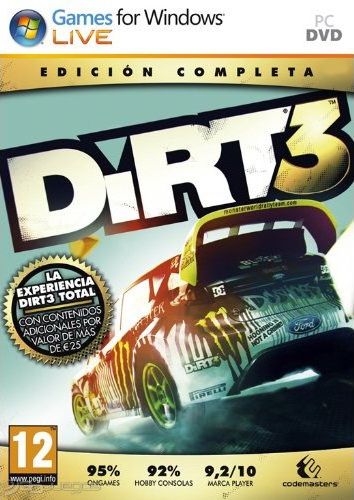 Dirt 3 Complete Edition-FiGHTCLUB
Info
Genre: Extreme Racing | Rally
Release Date: March 2012
Platforms: Xbox360 | PS3 | PC
Gameplay Modes: Single-Player, Multi-Player
Developer: Codemasters
Ratings: Metacritic: N/A
Dirt.3.Complete.Edition-FiGHTCLUB
1 DVD9 | 7.92 GB | fc-dirt3
Protection: SecuROM + GFWL
: Dirt 3 Complete Edition, which will come out this March on Xbox 360, PlayStation 3, and PC, will include over 30 of downloadable content. Even better, it will only set you back 40.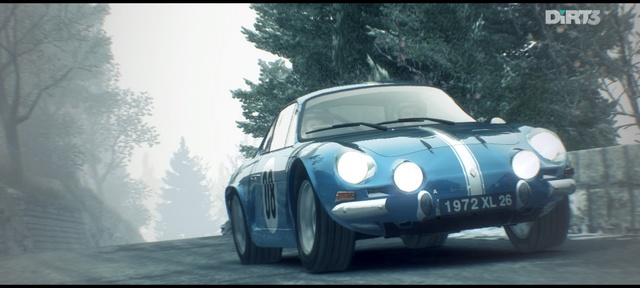 The main mode sees players earn reputation points in various events to gain the interest of sponsors who provide them with new vehicles. Flashbacks return from Dirt 2, which can be used up to five times in any difficulty, but cost reputation points to use. A new gymkhana mode puts players in obstacle courses, challenging them to perform various tricks to earn points.
Featured in the game are various party modes, involving events such as smashing wooden targets, spreading a zombie infection, and capture the flag. Other new features include a Hardcore mode which limits players to the cockpit view with no assists, the appearance of rain and snow, and the ability to upload replay clips directly to YouTube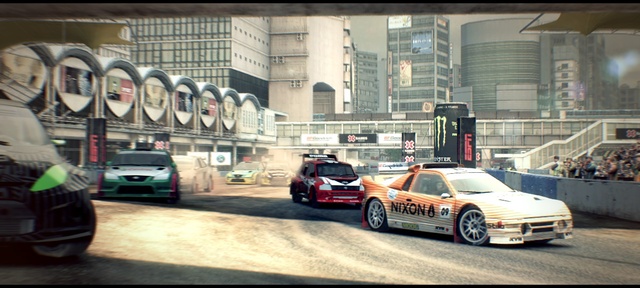 Features:
The Monte Carlo Rally Pack – eight breathtaking Rally stages featuring dramatic climbs, descents, and hairpins of snowy mountain roads Race through the Alps and conquer the legendary Col de Turini pass
The X Games Asia Track Pack – four new routes set across two new tracks in Shibuya, the neon heart of central Tokyo, where spectacular mud-spattered Rallycross circuits weave beneath towering skyscrapers
The Power and Glory Car Pack – stars five cars including the BMW M3 Rally, Lancia Delta S4, Ford Focus ST Rallycross, Scion tC, and Chevrolet Camaro SSX Concept, each with a range of liveries
The Mud and Guts Car Pack – features five cars available for single-player, split-screen, and online multiplayer events. Race the Lancia Stratos, Peugeot 205 T16 Evo 2, Citron C4 Rallycross, Saturn Sky, and Ford Mustang GT, each with a range of liveries
The Colin McRae Vision Charity Pack – access the Ford Escort Mk II, a 70s rally classic with five liveries
The Ken Block Special Pack – features a customized and upgraded Ford Escort Mk II an Open Class Rally car sporting a killer Ken Block livery
The Mini Gymkhana Special Pack – access the mid-engined Mini Cooper S Gymkhana, customized and tuned to become an outrageously responsive Gymkhana car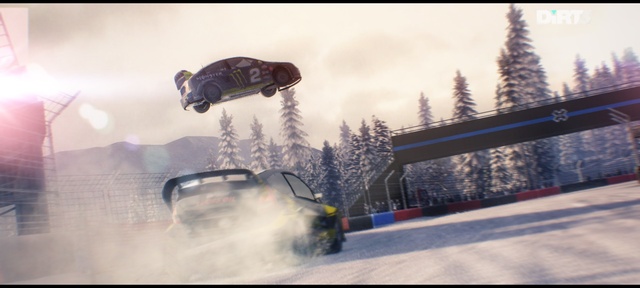 Minimum System Requirements
o OS: Microsoft Windows XP, Vista or Windows 7
o CPU: AMD AthlonTM 64 X2 2.8GHz, Intel Pentium® D 2.8Ghz
o RAM: 2GB
o HDD: 15GB
o GPU: AMD RadeonTM HD 2000 256MB, NVIDIA® GeForce® 8000 Series 256MB
o DirectX®: DirectX® 9
o Sound: DirectX® compatible soundcard
[Minimum requirements are the bare minimum to get the game playing. In some cases you may even need to reduce the screen resolution.]
Recommended System Requirements
Specifications: Enhanced for DirectX 11
o OS: Windows® 7
o CPU: AMD PhenomTM II X4 B50 or Intel® CoreTM i7-860
o RAM: 3GB
o HDD: 15GB
o GPU: AMD RadeonTM HD 6930 Series / Nvidia GeForce GTX 280
o DirectX®: DirectX® 11
o Sound: DirectX® compatible soundcard
[Recommended requirements are often listed as the system you would require to get the game running at a constantly good frame rate with graphical features turned up, possibly on a large screen resolution etc.]
(All below links are interchangable. No password)
Buy a Premium Account Depositfiles =High speed + Parallel Downloads!
Download From Depositfiles (Premium Recommend)

http://depositfiles.com/files/d2rsm3nlb
http://depositfiles.com/files/9n2ycik92
http://depositfiles.com/files/jja3da580
http://depositfiles.com/files/m1zk0d0e0
http://depositfiles.com/files/vs850o95m
http://depositfiles.com/files/4xh2il0ia
http://depositfiles.com/files/jto0hoivi
http://depositfiles.com/files/hodtm0vmr
http://depositfiles.com/files/qmf6rvvm7